Honest to Goodness 21 Herb Blend
Located in Palm Desert
This fragrant, versatile mix of herbs and spices was created by Swiss Chef Roland Bieri to complement just about any dish. It has long been a staple seasoning in the Bieri family and a coveted Holiday gift to friends for many years.
Enjoy our handcrafted savory blend of 21 herbs and spices:
Ingredients: Parsley, tarragon, cilantro, granulated garlic, granulated onions, basil, curry, dill, ginger, dried lemon peel, marjoram, oregano, paprika, rosemary, sage, anise, cinnamon, fennel seeds, pepper, cumin, nutmeg.
Perfect for any dietary program: Low sodium, no fat, no preservatives, no GMO, gluten free, vegan.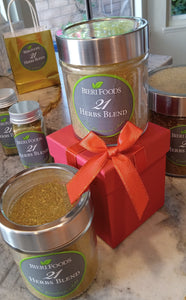 Gifts
Great tasteful gift Ideas
This section doesn't currently include any content. Add content to this section using the sidebar.